Cape Breton Step Dance Classes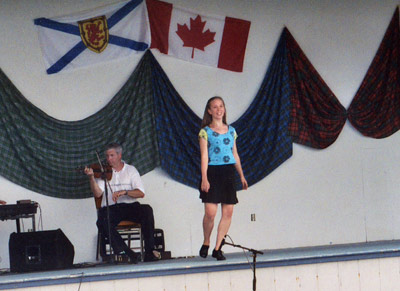 Scottish immigrant communities in Nova Scotia have been dancing a percussive dance form, now known as Cape Breton step dancing, since the early 19th century. Cape Breton steps can be performed solo or integrated into social set dances. Beginner to advanced dancers of all ages are invited to attend. Boston is one of the few places outside Nova Scotia to hold regular dances and even has its own distinctive set. This dance style is enjoyed and performed by men, women, and children of all ages. Come be part of a very unique dance tradition!
Winter 2018 Step Dance classes:
January 27 through March 10, 2018
Saturdays, 1:00 – 2:00 pm at the Canadian American Club, 202 Arlington St., Watertown, MA; drop-in at $15/class; wear comfortable clothing and bring hard-soled dance shoes.
Gaelic Club
The Boston Gaelic Club meets every third Sunday at the Canadian American Club in Watertown, MA. I often teach Cape Breton step dancing at 12:30 pm, then Gordon Aucoin leads a Cape Breton music session at 2:00 pm, and then an open mic session usually featuring instrumentalists and Gaelic singers starts at 3:30 pm. It's a fun, family-friendly gathering. The dance workshop is run only by specific request, so please email if you are planning to attend.
Highland Dance Classes
Highland Dance is an athletic dance form fusing the rhythmic attack of dynamic footwork with the strength of balletic line. My classes offer a unique approach to the artistry and history of this demanding dance form. Winter 2018 Highland classes will also run starting Saturdays from January 27 through March 10 at the Canadian American Club from 2:00 pm to 3:00 pm. Cost is $15/class. Appropriate leg wear would be leggings, tights, or shorts and knee socks, and appropriate footwear would be soft-soled dance slippers or Highland dancing pumps.
Jen Schoonover has performed Scottish dance at Carnegie Hall and the Kennedy Center in Washington, DC, and in July, 2004, was honored to represent "the Boston States" in the Chestico Days stepdancing festival in Port Hood, Cape Breton Island, Nova Scotia, Canada. Jen has performed locally at Gaelic Roots, the New England Folk Festival, and Boston Celtic Music Fest. She performs with Highland Dance Boston, Kieran Jordan Dancers, and Round the Corner Movers.
For more information, please contact 617-901-7649 or outrageoussocks [at] gmail.com.